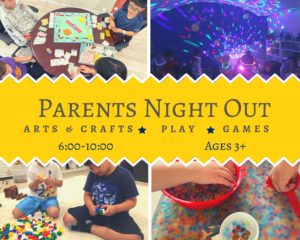 November's Parents Night Out will be from 5:00-9:00 with the option to add on another hour. This will be the last Parents Night Out for 2023.
Parents Night Out is a night you and your child will look forward to. While you're enjoying an adults-only night out, your child will be eating pizza, watching a movie, making a craft, playing board games or shooting hoops. The kids will have fun while you take some time out for yourself. It's a win-win situation for everyone!
Fair Oaks Mall, Fairfax Corner, and many awesome restaurants are close by so start making your plans.
For ages 3 and up. Potty trained children only. Parents Night Out is $40 for the first child and $30 for each additional sibling. Space is limited, so reservations are required.